What is a Bernese Mountain Dog?
The Bernese Mountain Dog is a large dog breed that originates from the Swiss Alps. They thrive in cold weather, making them the perfect breed for northern states such as Nebraska, where we are based. They were originally bred to be working farm and draft dogs, but also make for amazing, loving pets for any person or family.
Temperament or personality
Bernese Mountain dogs are patient, kind, affectionate and eager to please. They are very calm and sweet for such a large, strong dog breed. They are a wonderful family dog because of how friendly and relaxed they can be around children, and are also protective when needed. Bernese are very obedient and easy to train due to their intelligence and natural ability to learn quickly.

Coat and Color Characteristics
Bernese Mountain Dogs have a thick, moderately long double coat that is tri-colored: jet black, white and rust. The breed is known for its defining markings of white on their face, chest, and for their dark eyes. Berners shed a fair amount, more so in the shedding seasons (fall and spring) when they blow their coats. Regular brushing helps to remove loose hair and keep the coat looking its best.
How big are Bernese Mountain Dogs?
Bernese Mountain Dogs are quite large, and both males and females tend to be similar in size. They can range from 23 to 28 inches tall and typically weigh between 80 and 110 pounds.
How much Exercise do Bernese Mountain Dogs need?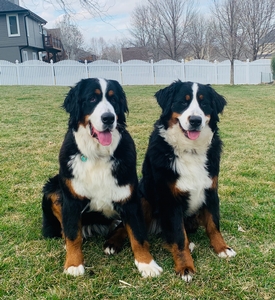 Considering their original purpose of being active farm dogs in the mountains, Bernese Mountain Dogs need routine exercise of 30 or more minutes daily. We breed our Bernese Mountain Dogs in Nebraska and they absolutely love to play in the snow! Any kind of outdoor activity will leave your Berner happy and healthy.
Breeding and Lifespan
Bernese Mountain Dogs have an average lifespan of 7-10 years. We carefully screen, conduct genetic tests, and obtain health/orthopedic clearances as recommended by the National Breed Club on any Bernese Mountain Dog we are considering adding to our breeding program. This allows us to offer you a high assurance of receiving a healthy dog!